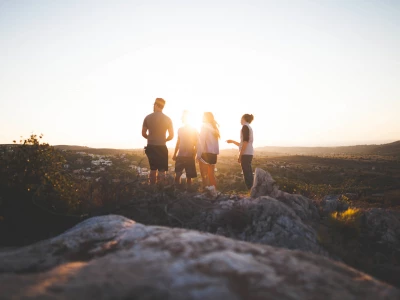 The Young Christian Climate Network (YCCN) has begun a relay pilgrimage from the G7 summit in St Ives to Glasgow, where world leaders will meet in November for important climate negotiations at the 26th UN Climate Change Conference of the Parties (COP26).
The 750-mile Relay aims to raise awareness of COP26 and spark conversations around climate and creation care theology within local churches and communities across the UK. Along the route, the pilgrimage will stop in 10 cities for a multi-day Residency and Birmingham is one of them!
The YCCN Relay will enter Birmingham District near Fenny Compton on Thursday 19th August and arrive in the city on Monday 23rd August. They will be events across the city before they leave Birmingham on Friday 27th August. The Relay then heads north, through Tamworth to leave the District on Sunday 29th August. More details of the route can be found online: https://www.yccn.uk
Anyone – young and old – can join the pilgrimage and walk (or cycle) along during the 10 days in Birmingham District. This is a wonderful opportunity to engage churches and youth groups with the topic of climate justice. As the Relay organisers state: "COP26 is a decade-defining opportunity to make a stand for climate justice, to hold our leaders accountable and to protect people, not bank balances. It's a decade-defining opportunity to think about what we, the Church, could do together – how we could #RiseToTheMoment."
This may be one of the most exciting events for your church to get involved with this year. The YCCN is an excellent organisation with full support from Christian Aid and Hope for the Future. These young people are doing brilliant work, and we should welcome them warmly to God's own county. I am excited about the potential of this Relay for our local churches. Please sign up and get involved.
There are many ways you can join and support the Relay. YCCN is urgently looking for volunteers to plan (and test) the walking route in more detail, to provide accommodation, and to organise events during the residency. To sign up for any offer of support, please visit the website: https://www.yccn.uk/ and complete the response form. You will then be connected to the right coordinator for the relevant section of the route.