South Warwickshire Circuit Newsletter 4

Gold Eco Award for Stratford

Stratford-Upon-Avon church has become the first Methodist Church in the country to receive the top Gold Eco-Church award from A Rocha. A Rocha is an environmental charity which encourages churches to make changes to improve their climate impact and take action for the environment.
Stratford Church started the Eco-Congregation programme in 2003 and was given 3 awards in the following 12 years. In 2014, the building was refurbished with the aim to be more energy efficient, successfully reducing the carbon footprint of the church premises from 40 to 16 tonnes CO2 annually. The church has also installed solar panels, a ground source heat pump and a rainwater harvesting system to flush the toilets.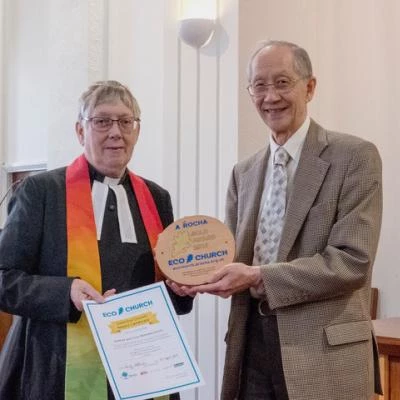 Church members are particularly proud of their wild flower garden which they developed on a small strip of land behind the church building to encourage biodiversity.
Stratford Church are instrumental in the Stratford Climate Action Network and were joint organisers of the Stratford Climate Action Day in June.
The photo shows Lim Ho from Stratford Church receiving the Gold Award from Rev Jennifer Potter

For more information about Stratford Methodist Church, visit their website
To read all the articles in newsletter 4, click here