Knightcote Chapel in the heart of Warwickshire celebrates its 180th anniversary with a service of praise and thanksgiving at 7.30pm on Monday 24th April 2017.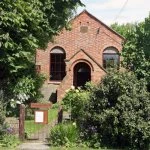 Our guest speaker will be Rev. John Taylor and the anniversary will be chaired by our Superintendent Minister Rev. Peter Powers. The music will be led by 'Harmony'.
The little chapel with the big heart.
All are welcome.