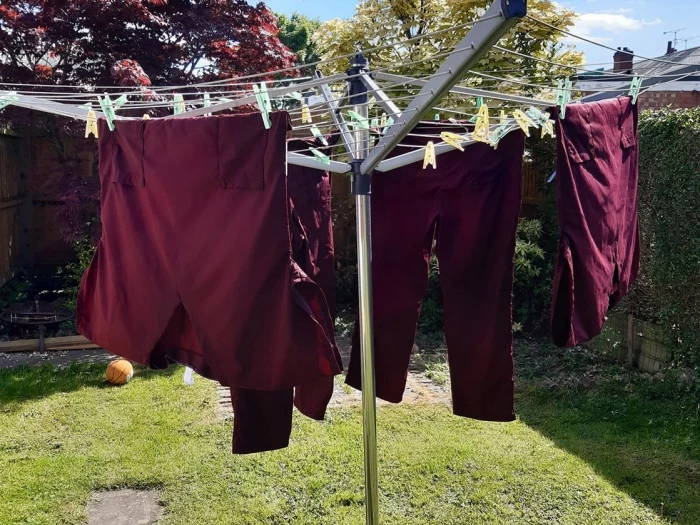 Kenilworth Scrubbers

On 10th April a friend sent me a message, she had answered a call to make scrubs for a desperate NHS. As a lifetime sewer, I knew I could help and followed up the link, within a couple of hours I was the co-ordinator for Kenilworth, where ...'there are 4 sewers and there may be a few more as the word gets out....' Little did I know!
Over the next few days, the pace quickened, the team grew, 20, 30, 40 and still they came, hobby sewers, sewing professionals, people who hadn't sewn since they were at school but were keen to help. Within a week what started as a small delivery of fabric and a few sets of scrubs rocketed. We received our first large donation from Kenilworth Round Table and 350 metres of fabric was purchased. Exceeding the scope of my kitchen table I made a request to Kenilworth Methodist Church to move the cutting part of the operation to the hall, use was kindly granted by the church stewards and on Saturday 16th April we held the first of 6 cutting days. Use of the hall meant that at an acceptable social distance we could move at a pace and cut the extra wide fabric with ease and with much greater economy and efficiency than cutting at home.
Alongside the cutting, all over Kenilworth households were prewashing and drying fabric ready for use. In addition to the scrubs, laundry bags and headbands were made from sewers own fabric. More volunteers, 50, 60 and the scale of the operation increased again and a chance (and very lucky) conversation lead to appointment of a Logistics Manager. Distribution no longer an issue we suddenly had a very process-efficient system and lots of occupied and happy sewers.
Over the last weeks a team of volunteer drivers have delivered pre-cut kits and collected finished scrubs. There have been regular town centre collections for sewers to drop off any items and a constant stream of social media enquiries and information (usually over 200 messages per day) We are just a small town but in the last 2 weeks Kenilworth scrubbers have turned out 212 sets of scrubs, 630 scrubs laundry bags and 118 headbands. Most of these items have been delivered to the South Warwickshire Foundation Trust (Warwick Hospital, Stratford Hospital, Leamington Rehabilitation Hospital and Ellen Badger Hospital).
Having answered the initial appeal, the sewing continues; further funding has been received from Kenilworth Lions and The Rotary Club and smaller requests from GP surgeries and care homes and Warwickshire police are now being processed. Whilst the pace has slowed slightly, we seem to be a long way from finished.
As a group we are enormously grateful for major support received from local charitable organisations and Kenilworth Methodist Church. A huge thanks to 'Kenilworth Scrubbers' – the sewers, drivers, washers, ironers, cutters, fundraisers, coordinators and donators. Together, at a time of strange requirements and restrictions we have made a difference and supported the NHS.
(Total items made across Warwickshire 1402 scrubs, 5,041 laundry bags, 2,530 headbands)
Kenilworth Scrubbers have a Facebook page https://www.facebook.com/groups/Warwickshirescrubbers/ – this is a private page, so you will have to join to see the posts. Click the link, or copy and paste the url in your browser- Ed